Backpacker T-shirt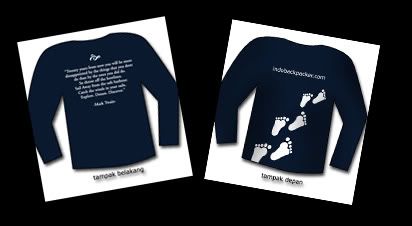 Ini adalah kaos, kaos ini adalah desain oleh mumu, mumu mendesain kaos ini untuk para backpacker yang hobi nge backpacker, depannya ada gambar jejak jejak kaki, melambang para backpacker yang suka jalan-jalan hingga meninggalkan jejak, di belakangnya ada tulisan bagus dari Mark Twain yang bertulisan

"Twenty years from now you will be more disappointed by the thing that you don't do than by the ones you did do. So throw of the bowlines. Sail Away from the safe harbour. Catch the winds in your sails. Explore. Dream. Discover. " –Mark Twain-

Anda suka dan mau pesan???